DentalPortal.com is a dynamic website that is evolving to meet the needs of the community it supports. DentalPortal.com strives to, not only deliver an online strategy for your practice, but to also simplify online initiatives by bringing them under one virtual roof.
What strategies should your practice be engaged in?
Your practice needs an online presence that includes your own website and profile pages on other key sites.
Your website should accurately describe and represent your website in text and with photos and video.
Your website should facilitate communication between the practice and patient or potential patient:
Phone numbers a method of email contact, appointment request, patient forms.
Your website should have maps and directions so that patients can find you.
Your practice should be engaging is SEO (Search engine optimization) to make sure you are easily found and well described in the search engines, especially Google and Yahoo!
Your practice should be recruiting talent online without spending money.
Your practice should be engaging in some form of social networking, mainly blogging.
Your practice using opt-in email to remind patients about appointments, wish them happy birthday and simply keep in touch.
Your practice should be networking with other practices to create referral networks that best serve the needs of patients and create synergistic relationships between doctors and patients.
Why Post Jobs on DentalPortal.com
When you post a job on dentalportal.com within 24 hours that job is feeding out to approximately 15 other high-profile websites where thousands of job seekers are searching for positions every day. The diagram below illustrates exactly where the listings are placed. Most of this process is automated, but some of it we maintain manually. Unlimited job posting is included with all levels of dentalportal.com membership. Get your membership account set up now and post your dental jobs.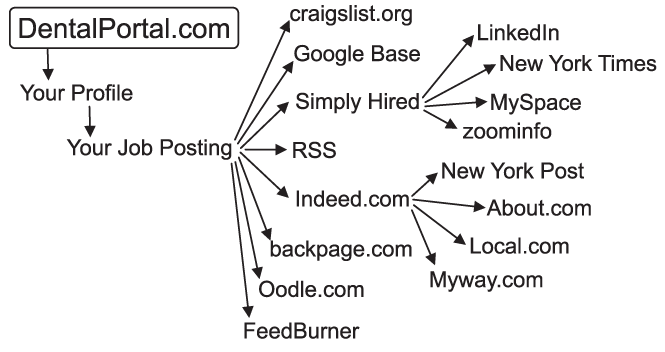 Links to Popular Sites that Carry DentalPortal.com job Postings (referenced in the above diagram)
There are certainly numerous other sites that biggy-back of these sites. We have made arrangements with the online job search leaders and are confident that your job postings will get unparalleled exposure with minimal effort on your part.